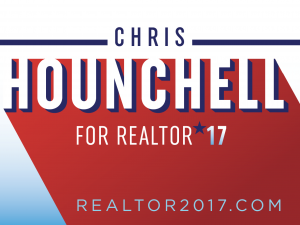 As Runner Up for "BEST REALTOR" in the 2016 Best of The Bay awards, I'm campaigning to be your REALTOR of CHOICE in 2017. We want to bring HOPE to the home buying/selling process. We want to bring CHANGE to the traditional way real estate is marketed. We want to bring common ground SOLUTIONS to your real estate transactions. We bring 13 years of experience in navigating the many nuances of an EVOLVING real estate market. We want to show you the benefits of our PROVEN track record as a LEADER in the industry. Let our EXPERIENCE go to work for you. VOTE Chris Hounchell as your Realtor in 2017!
Chris Hounchell & Associates is an award-winning Tampa Bay Florida real estate team that has earned a reputation for providing expert, professional representation to its clients, unparalleled product and market knowledge, personal, dedicated service, indisputable honesty and transparency throughout the entire buying and selling process.
We are specialists in all phases of buying and selling residential real estate throughout the Tampa, St. Petersburg and Clearwater area. Our familiarity with the neighborhoods that comprise our region is unrivaled. In addition, Chris Hounchell & Associates is a leader in the area's pre-foreclosure, short sales and foreclosure markets.
Our goal is to equip our clients with the most comprehensive, up-to-date and accurate information available to allow them to make informed decisions. A highly trained team of professional negotiators, agents, assistants, lenders, inspectors, insurance agents and vendors supports our commitment to become the principal resource for fulfilling all of your real estate needs.
Chris Hounchell
Founded in 2004, Chris Hounchell & Associates is led by Chris Hounchell, a fifth generation St. Petersburg, Florida resident. Chris brings to his company an impressive range of professional experience as well as an entrepreneurial spirit and an intense work ethic. It is Chris' commitment to excellence that has made Chris Hounchell & Associates an overwhelming success in today's complex real marketplace and an award-winning Tampa Bay Florida real estate Broker.
Chris has repeatedly achieved multi-million dollar real estate Broker sales status in the St. Petersburg-Tampa real estate market. He is also a five-time recipient of the prestigious 100% Club Award given by RE/MAX International and has been inducted into the RE/MAX Hall of Fame and the RE/MAX Platinum Club.
Chris's outstanding production continues to rank him among the top 100 individual agents in Pinellas County.
Chris is a University of Florida alumnus. He has held leadership roles in several successful companies, among them are Americlaim Solutions, Zeneks and Vaeve. In addition to piloting Chris Hounchell & Associates, he is president of BELCON, LLC, a Florida real estate consulting firm.
"Chris is a true professional which is often overlooked in today's business world. (He) strives to not only stay on top but be ahead of everyone else in his field. I feel greatly at ease recommending Chris as I know he will take an aggressive, innovative and ethical approach with all of his clients." Todd Davis
Chris is actively involved in the St. Petersburg-Tampa business and philanthropic communities via many organizations to include the Bay Area Advisors, Albert Whitted Airport Preservation Society, March of Dimes, American Heart Association, The Tampa Connection, the University of Florida Alumni Association, the Pinellas Realtor Organization, the Florida Association of Realtors, the National Association of Realtors, Green Devil Dads and the Tracy McGrady Foundation. He also dedicates his dynamic efforts toward raising funds for Tampa, Florida's Moffitt Cancer Research Center, which is regarded as being among the finest cancer centers in the world.
Chris and his family make their home in St. Petersburg.
Contact Chris Hounchell & Associates  for the most comprehensive real estate services in the Tampa Bay, St. Petersburg, Clearwater area and see why they are an award-winning Tampa Bay Florida Real Estate company.