Like Hyde Park, Davis Islands is one of the most prestigious addresses in the Tampa Bay area but holds the distinction of being Tampa's most sought after waterfront island community.
Davis Islands is a mature and eclectic collection of architectural styles, beautiful, well-established tree lined streets, impressive estates owned by leading national sports and business personalities, as well a sprinkling of bungalow-style homes, deep-water lots, lovely condominiums. The Davis Island Yacht Club, Peter O'Knight Airport, a seaplane basin and a "downtown" shopping area serving up restaurants, intimate cafes, lively bars and unique shopping opportunities all serve the many needs and desires of residents and visitors alike.
Minutes away from Davis Islands are downtown Tampa, the Tampa Bay Performing Arts Center, the Convention Center, Tampa General Hospital, the St. Pete Times Forum, Florida Aquarium, Ybor City and virtually everything else Tampa has to offer both day and night. Tampa International Airport is conveniently and literally only 15-minutes away by car.
View of the downtown Tampa, Convention Center in foreground.
(Photo courtesy of By Robert Neff , via Wikimedia Commons)
Davis Islands is a dog friendly, walking neighborhood that offers a pedestrian trail spanning a majority of the island, and not one but two dog parks.
To reach Davis Islands from downtown Tampa, one must simply cross the Hillsborough River on the Kennedy Boulevard bridge, turn left (south) on Plant Avenue and cross the Davis Islands Causeway adjacent to Tampa General Hospital onto the islands.
From The Bottom of Tampa Bay To Exclusive Real Estate
Before there were Davis Islands, there were three small islands surrounded by mud flats at the mouth of the Hillsborough River where it flows into Hillsborough Bay and from there into Tampa Bay.
In the early 1920s, Tampa native D.P. Davis bankrolled some of the money he made as a Miami real estate developer to create a resort community complete with hotels, a nine-hole golf course, an airport and a swimming pool. Despite opposition from nearby neighbors, Davis dredged over 89 million cubic feet of sand from the bottom of Hillsborough Bay to create Davis Islands, which today encompasses 875 acres.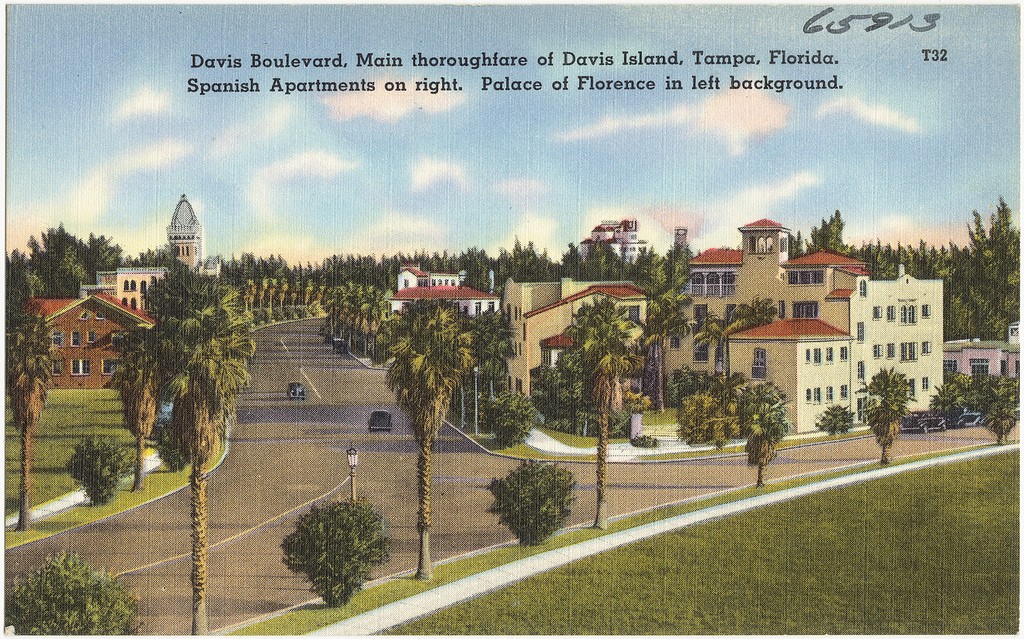 (Photo courtesy of Boston Public Library vis Flickr)
Every one of the initial 306 home lots that became available for purchase were bought within three hours after initially going on sale. A building frenzy ensued and many owners were encouraged to build Mediterranean Revival-style homes to help promote the "Venetian" ambiance of the new community. Many of these homes remain today.
In 1925, the Florida real estate development juggernaut came to a screeching halt and construction did not fully restart until after World War II. To help kick start sales, owners were able to build in any style they chose, which accounts for the eclectic mix of architectural styles seen today.
Since the 1980s, the Davis Islands Civic Association has been an active collection of homeowners whose goal it is to maintain the unique character of the islands, improve the quality of life throughout the community for the roughly 5,500 residents and promote projects such as the Seaplane Basin Park, Apex Park and Welcome Home Park. Membership is encouraged but not required.
If you're considering a move to or near downtown Tampa and are looking for a community that offers an appealing mix of architectural styles, waterfront and bay access, world-class amenities, a marina facility, private airport and quiet, check out all that Davis Islands has to offer. We can help, call  727-642-9107 or email us.
---
Editor's note: This post was originally published in April 2014. It has been updated to reflect new information and edited for cohesiveness.