What Makes Historic Old Northeast St. Petersburg Historic?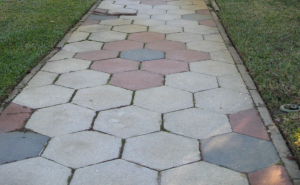 As part of our series of blogs on neighborhoods found throughout St. Petersburg and Tampa, we've covered St. Pete's Historic Old Northeast area. But since it's original posting, we've received quite a few inquiries from readers wanting to know more about the history of Old Northeast and what makes it so historic and appealing.
There are a lot of key architectural elements that set Old Northeast apart from the rest of St. Petersburg. Most obvious are the brick streets sided by granite curbs. Anyone who has walked through the neighborhood bounded by 4th Street North, 5th Avenue North, the waters of Tampa Bay, and 30th Avenue North have also noticed the hexagonal block sidewalks. But those are just a few of its unique features.
Another thing that sets Old Northeast apart is the architectural and natural diversity of the community. In an area containing over 5,000 homes and around 9,000 residents, a walking tour reveals an eclectic mixture of Prairie style, Colonial Revival, Bungalow style, Mediterranean Revival and Williamsburg style homes. Mature landscaping, much dating back to the early 1900's when the subdivision was started, includes huge live oaks, jacarandas, pines, palms, maples and magnolias. Some streets are well known for their attractive canopies of overhanging trees that give them a feeling of richness and privacy.
Many northerners feel very much at home when visiting Old Northeast. It's not what they expect from a Florida neighborhood. But considering that most of the early Old Northeast settlers came from the actual northeast and brought with them their own northern design styles, it's understandable.
Also notable is the history surrounding and within integral parts of the neighborhood. The historic Vinoy Park Hotel is considered the cornerstone of the area. Odd then that the Vinoy almost came under the wrecking ball after being virtually abandoned in the 1970s. Its restoration and re-opening in 1992 was cause for celebration and coincided with the widespread rebirth of downtown St. Pete, which now sports a vibrant nightlife, an abundance of cultural activities, excellent restaurants, live music venues and a great place to walk and enjoy its many parks and open spaces.
Unique residential landmarks found throughout the historic Old Northeast St. Petersburg area:
NOTE – Many of the above landmarks are now private residences, when visiting, please respect the owners' privacy.
The Jones-Laughner Residence, 556 Beach Drive NE – great example of Craftsman-style architecture.
The Ridgely Residence, 600 Beach Drive NE – one of the best examples of rusticated concrete block construction in the area.
The Robert West House (Pineapple House), 101 6th Avenue NE.
The Boyce Guest House, 635 Bay Street NE – once a tourist residence and Inn, now a private residence.
The Thomas Whitted House, 656 1st Street N – Thomas' son, Albert, a commercial aviator, had the Albert Whitted Airport named after him.
The Monticello Apartments, 730 3rd Street N – Once a home for area artists, now a private residence.
The Pace Residence, 705 16th Avenue NE.
Sunken Gardens, 1825 4th Street N – One of Florida's famed "Roadside Attractions."
First Church of Christ Scientist, 253 5th Avenue N – Now known as the Palladium Theater, for nearly 70 years this was an active site for worship.
Of course, one of the things that makes Old Northeast so special is its proximity to downtown St. Petersburg and its easy access to water. North Shore Park comprises the entire eastern boundary of the neighborhood and offers residents a large public pool, tennis courts, baseball field, bike trails, sidewalks perfect for long strolls, a children's playground and its own white sand beach.
The waters of Coffee Pot Bayou are popular with fishermen and manatees that can often be seen lolling in the warmer winter water. The Bayou also provides easy access for boaters looking to access Tampa Bay and the Gulf of Mexico beyond.
Homage must be paid to the Historic Old Northeast Neighborhood Association when talking about what makes the community special. HONNA is a very active owners association that works tirelessly to preserve and enhance the quality of life in Old Northeast. Each month the association's board of directors meets to discuss issues and make recommendations to members who then vote based on their appreciation of the historic foundation and their need to preserve the quality of life in Old Northeast.
If you're considering a move to the St. Petersburg-Tampa area, strongly consider Old Northeast and become part of a decades-long effort to preserve and maintain all the things that make it unique and historic. Give us a call, 727-642-9107,  and let us see how we can help you find your dream home.
For more information, please contact Chris today.