It's that time of the year again! It's time to start planning to attend Martinis for Moffitt, a charity event hosted by the Bay Area Advisors.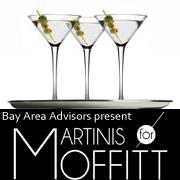 What is Martinis for Moffitt?
This year marks the twelfth annual event that raises money for the Moffitt Cancer Center. Hosted by the Bay Area Advisor, of which I am a member, Martinis for Moffitt is an adult evening featuring an open bar, butlered hors d'ouevres, food stations, entertainment, raffles, and a silent auction. There are also plenty of opportunities to network with over 1,000 attendees expected. This year it's David A. Straz Center for the Performing Arts along the Hillsborough River in Tampa.
What is the Moffitt Cancer Center?
Located in Tampa, the Moffitt Cancer Center is a premier facility specializing in the treatment of cancer and research dedicated to finding preventative measures and cures for a variety of cancers. It is one of the largest blood and bone marrow transplant centers in the Southeastern United States and continually ranks as one of the "Best Hospitals" by U.S. News and World Reports. In addition to it's medical goals, it is also a large, locally based employer; employing over 4,000 people spread across four corporate entities.
Is there a goal for this year's fundraiser?
We aim to out perform the previous year. Since it's inception, Martinis for Moffitt has raised almost $800,000 to benefit the Moffitt Cancer Center. In 2015 & 2016, we have directed the funds raised to the Advanced Prostate Cancer Collaboration initiative at Moffitt Cancer Center. In 2016, the Bay Area Advisors added the Moffitt's Adolescent and Young Adult Program as an additional beneficiary. Both of these worthy causes will be the focus of our fundraising efforts again this year.
How do I attend?
I thought you'd never ask! It's easy! The event is Saturday, July 22, 2017 and begins at 7 p.m. Tickets can be purchased online through the Martinis for Moffitt website.
Anything else I should know?
This is an adults only event, so schedule the babysitter ASAP so you don't miss out on this fun night. Cocktail dress is required. Come ready to have fun for a great cause!