St. Pete, Start Your Labor Day Weekend Grills

–




Labor Day Is Mon., September 2
The last national, and St. Petersburg – Tampa area, holiday of summer 2013 is right around the corner. Labor Day is coming up Monday, September 2. Grills ready?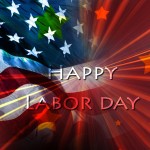 The United States Department of Labor states that Labor Day is "dedicated to the social and economic achievements of American workers. It constitutes a yearly national tribute to the contributions workers have made to the strength, prosperity and well-being of our country."
Adopted as a national holiday by Congress in 1894, Labor Day falls on the first Monday of each September, and has come to mean different things to different people over the past 119 years. As adopted, Labor Day was established to celebrate the strength of trade organizations and general labor within the United States, and the economic and social contributions of our workers.It used to be that Labor Day was the last gasp of summer vacation before students had to return to school.Not so these days. Students in Pinellas and Hillsborough counties returned to class August 20; in Pasco County they were at their desks August 19.
Labor Day 2013, Weekend Grill Ready?
We want to share an easy, low-fat  recipe that we will be grilling, Spicy Oriental Turkey Burgers and Wasabi Sauce.  Whether celebrating with friends or watching football this is one of our family favs!
Are You Ready For Some (Real) Football?
Labor Day week marks the official beginning of the NFL's regular season. Our Tampa Bay Buccaneers play their first regular season game Sunday, September 8 at the New York Jets.
The NCAA used to schedule the first college football games just after Labor Day, but those days have passed, as well. For instance, the Florida Gators kick of their first game Friday, August 31 in Gainesville against Toledo, while Florida State University takes on Pittsburg on Labor Day, September 2. The University of South Florida takes the field August 31 against McNeese State and the University of Miami gets going August 30 versus Florida Atlantic University.
Put Away The Seersucker!
Aside from celebrating the contributions of our workers, the unofficial end of summer and the beginning of the pro football season, probably the most important yet overlooked aspect of Labor Day has to do with fashion. Labor Day is considered the last day of the year when it is fashionable to wear white or seersucker. Now we're OK with starting to rock colors after Labor Day, but no more seersucker? That's just wrong. Can Memorial Day 2014, when it's again OK to wear white and seersucker, come soon enough?
Happy Labor Day everyone!