Before you ever sign the listing agreement with any Realtor, you should discuss his or her plan to market you property.  One of the items to discuss should be an open house.  Open houses benefit some properties while falling flat for others.  Open houses are a lot of work for both the seller and the Realtor and if all parties agree to host one, it should reflect a good amount of effort on both parts.  Consider your home's showing record, the feedback you've received thus far, and the effort & patience you'll need before scheduling an open house.
Why You Should
Convenience
If you have set strict showing instructions or limited the times your home is available for showings, an open house may make it more convenient for potential buyers to see your property.  Holding an open house on the weekend also provides potential buyers with more flexibility to view your home without the feeling of a time crunch.  Still other buyers may use it as a way to view the property for a second time.
Hot Market
If your home is listed in a seller's market, an open house scheduled within the first week or two of listing can take advantage of the market conditions and bring in a number of serious buyers all at the same time.  With a house full of serious buyers, a seller could potentially end up with multiple offers at the end of the day.
Feedback
Has the feedback on your home individual showings produced the same feedback time and again?  Maybe "paint colors are too bold" or "landscaping needs work"?  If you've recently made improvements to the home, an open house would be a perfect way to show off the finished product.  Your Realtor should reach out to those buyers that made the comments and the first place and invite them back to see the changes.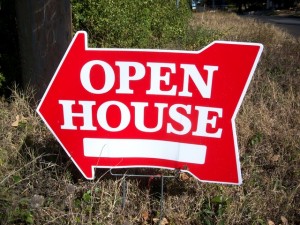 Why You May Think Twice
Nosey Neighbors, Wishers, and Site-Seers 
It can appear by the sign-in sheet that your open house was a success but don't judge a book by it's cover.  Open houses are prime targets for nosey neighbors who want to see what's beyond the front door to justify your asking price.  There are also those buyers that are legitimately looking for a home but one well below your asking price.  Some people just want to have a look around to get ideas for decorating their own homes.  And still others attend open houses just for something to do on the weekends.
Scrub the House
A few weeks ago, we talked about getting your home ready for a showing.  Aside from the actual cleaning, sweeping, and vacuuming, you really should scrub any trace of your family's existence from the house…at least for that one day.  You'll need to stage the home which means removing personal items such as photos and mementos and replace them with neutral decor.  Less is always more in the case of showings and open houses so put away all of the small appliances and other items that usually reside on your counter tops and tables.  This can take a lot of time and may incur additional costs if you need to rent or purchase home decor items.
Security
Whether you own a mansion or a two bedroom condominium opening you home to any number of strangers could open you up to the risk of theft.  If hosting an open house, you should insist that your Realtor have an assistant to help keep an eye on those visitors walking through the home while your Realtor deals with more serious buyers.
Years ago open houses were the way for Realtors to get their listings noticed but they now share the spotlight with internet listings and social media touts.  Great MLS pictures are nice to look at but can never replace actually visiting a home in person.  Your listing agent will be able to help you decide if an open house is a marketing tool that will benefit you.