Scare Up Some Fun St. Pete & Tampa: Halloween Is Thursday, October 31.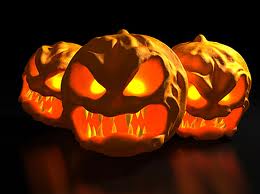 Pagans, poltergeists and skeletons take heed, Thursday is All Hallows' Eve and there's trick or treating to be done! Collect your costumes, your hats, makeup and masks and get ready to scare up some Halloween goodies all over the St. Petersburg – Tampa area. Whether you're a ghost or a witch, hobo or superhero, there are fun and oh so creepy things for every monster and ballerina brave enough to venture out of the house on the night when demons and phantoms rule the streets.
We hear there's nothing quite like the unworldly decorations the ghouls living in the Old Northeast (17th Avenue between Locust and Poplar streets, and Hellview Cemetery – 510 49th Ave. N.) and Harbor Isles neighborhoods annually unearth and they're both great areas to take the kids for some trick or treating. But be warned, after sunset the goblins come out in force.
If you're looking for something a little different this Halloween, here are some of the events taking place throughout the St. Petersburg – Tampa area:
St. Petersburg
Ghost Tours – Hooker Tea Company's guides are dressed to scare as they tell spine tingling tales of St. Petersburg's ghosts and spirits. Departing at 8 p.m. from 300 Beach Drive NE. Admission $10-$15.
Scott & Patti Halloween Spooktacular – A Halloween cabaret and costume contest, full bar. Admission $15 with costume, $20 without.
Halloween Party and Owl Prowl – Boyd Hill Nature Preserve presents a party for kids ages three to 11, costume contest, games, etc. 1101 Country Club Way South. St. Pete. Admission $5.
Novaween VII – For Halloweeners 21 and over, comedian Ron White will judge the costume contest, full bars, food, free valet parking. 535 Dr. Martin Luther King Jr. St. N., St. Pete. Admission $18.50. 
Tampa
Ghost Tours – Candlelight walking tour of historic Tampa from Fresh Café, 507 N. Franklin St., Tampa. Admission $10 kids, $15 no longer kids.
Halloween Spree – Glazer Children's Museum, 110 W. Gasparilla Plaza, Tampa. Trick or treating, parade and costume contest for kids, pumpkin carving and monsters galore. Admission $5.
Nightmare on Franklin Street: Halloween – The final installment of Tampa Theatre's (711 Franklin St.) annual showing of horror films for kids and adults. Tonight's feature – The Rocky Horror Picture Show. Admission $12-$17.
Zombie Invasion – Ybor City Museum State Park, 1818 E. Ninth Ave., Ybor City. What more can we say? Zombies, top-of-the-lung screaming, costume contest, great food, flash mob. Zombie makeovers available. Admission $40 advance, $50 at the door. 
Clearwater
Halloween Sidewalk Party – Starlight Dance Club, 2221 N. Hercules Ave., more zombies at this outdoor costume party with a Thriller theme. Admission Free.
Babies & Toddlers Halloween Party – Clearwater East Library, 2251 Drew. St., Special "Mother Goose on the Loose" party with plays, music, stories and a costumed parade for kids. Admission Free.
Boo Bash – Bright House Field, 601 N. Old Coachman Rd., free community Halloween celebration, interactive games for kids, hay rides, haunted house. Admission Free. 
Pinellas Park
Halloween Treat Trail – England Brothers Bandshell Park, 5010 81st. Ave. N., safe trick or treat trail for kids, huge community carnival, costume contest, prizes. Admission Free.
These are just a few of the many Halloween events happening all over the St. Petersburg – Tampa area. Check your local listings for additional scary goings on and have a scream of a time.
BOO!