While the rest of the country may still be buried under all of that snow, spring is quickly finding it's way back to Florida.  Regardless if you're attempting to sell your home or not, you'll want your landscaping to present a maintained look.  Not only does a maintained lawn look nice it is also a sign to intruders that someone lives in the property and your home isn't an easy target for break-ins and thefts.  Keeping clutter at bay and pruned lawns, trees, and bushes will also help repel other unwanted visitors like rodents, snakes, and bugs that can get into your home and cause serious damages.
Clear the clutter.
The first thing to do when you spring clean your landscape is to remove all the debris that's built up over the winter months.  Litter, fallen leaves, and dead plants and weeds from last season should be collected and disposed.  Now is a perfect time to look around your property and get rid of any pieces of outdoor furniture that is broken or you will no longer use.  If you have a shed or other outbuilding, check around it to see if there are any scrap materials that need to be trashed as well.
Raking your lawn is also recommended to help remove thatch build up.  Bushes and trees should be pruned back.  Bushes should stay clear of windows and entryways both for aesthetics and safety.  Any branches that have suffered damage through the winter should be pruned.  Branches that hang over any part of the house, a sidewalk, or a fence should be cut back to prevent damage should they fall down.  If a branch is especially large or high or the entire tree needs to be removed, we recommend you higher a professional arborist to handle the task.
Make it effortless.
No one wants to be out in their garden all spring and summer pulling weeds.  To keep your planting beds weed free lay down landscape fabric.  (Experts advise against landscape fabric in vegetable/fruit beds.)  Native plants such as leather ferns, century plants, and blue stem grass can fill your beds and require minimal assistance to survive in the Floridan climate.  Adding mulch around your bushes, plants, and flowers will help keep moisture in the soil, weeds out, and provide an attractive finish to your beds.  Professional landscapers recommend mulch be spread to a depth of at least two inches and replaced at least twice a year.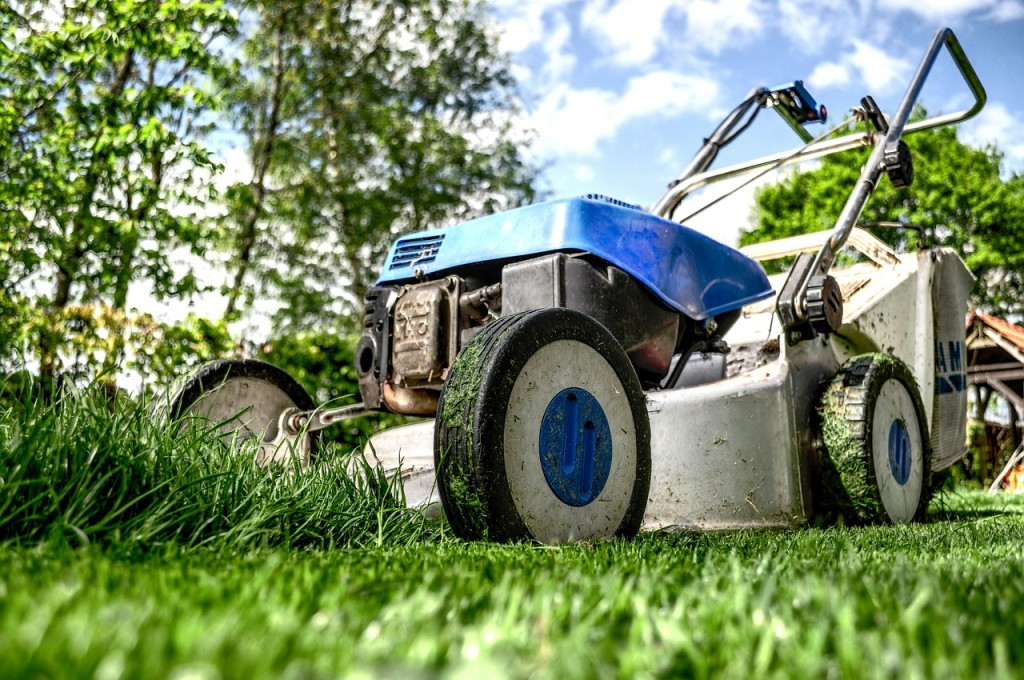 Have the right tools.
Spring is also the perfect time to have your irrigation system checked if you have one.   Look for and replace missing or broken spray heads.  Check to make sure all spray heads fully clear the ground when turned on and retract completely after the system has been turned off.  Make sure the water pressure is correct and the spray heads point to the grass or bushes and not onto sidewalks or the house.  Most systems come complete with the ability to program when the system turns on and off.  Refer to your local ordinances for water conservation and schedule your system accordingly, the best time to water is in the evening.
Inspect your lawnmower and any other equipment you plan to use to keep your lawn trimmed.  Clean out the undercarriage of the mower.  Gasoline powered motors are much like your car's engine and require regular maintenance.  Make sure the oil level is adequate and the air filter is clean.  Experts suggest that the spark plug be replaced every year to ensure a swift start-up.  The mower blade needs to remain sharp for an easy cut and healthy grass.  It's recommended that you take the blade to a local hardware or landscape store to have it sharpened for a nominal fee.  Your blades should also be adjusted to keep your grass at a height of 2-1/2 to 3 1/2 inches.
Much like our fall home maintenance tips, these tasks can be tackled over one weekend, cost very little to complete, and the results will pay off for the rest of your spring and summer.