Changing seasons is a perfect time to inspect your home and address some of its larger maintenance needs.  Don't stress though all of the items listed below are ones that you can take care of yourself in just a few hours during the weekend and tools you already have in your possession.
Roof.  Find a sturdy ladder and climb up on your roof to give it a good inspection. You want to make sure there are no loose or broken shingles, if there are replace them.  Check the chalking around the chimney and vents; any dry, cracked, or missing chalk should be replaced.  Check to make sure the screen over your chimney is secure and if you don't have one get one immediately to prevent small animals from making a home out of your home.
Gutters.  While you're on the roof, give your gutters a once over.  Remove any leaves or debris. That build up over the winter can prevent rain water from draining properly.  Make sure your gutters are also secured.  If you're feeling ambitious, you can install gutter guards to help keep the debris out.  You can find gutter guards at your local hardware store.
Landscaping. Remove any debris and dead plants from your flower beds and yard. Rake leaves from your yard and dispose of them according to your local government's laws. Inspect remaining plants, flowers, bushes,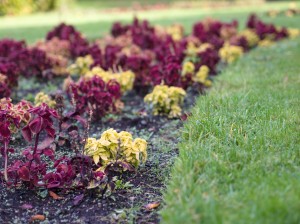 and trees for signs of disease or severe damage. Trim back bushes and trees. Add new mulch to your flower beds and around trees. Add new plants that are currently in season and plant perennials.
Windows.  Take a look at your windows from both inside and outside.  Repair any tears in the screens and replace any weather stripping that is dry rotted, broken, or missing.  Make sure your windows open and close smoothly and the locks are in working order.  Properly secure any shutters.
Paint. Take a walk around your home and look for any peeling paint or stains.  For peeling paint, sand the area and repaint, two coats should be more than enough.  For stains first try a solution of warm water and dish soap and scrub the affected area with a scrub brush.  If that doesn't work or the area is too big, try pressure washing.  If all else fails you can repaint the area.  If you've been putting off painting the exterior, the cooler fall weather is the perfect time to do it.
Fire and Carbon monoxide Safety.  You should test your smoke and carbon monoxide detectors every month.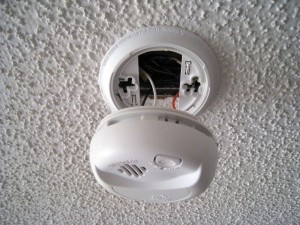 Take the time at least twice a year to clean the units using the crevice attachment on your vacuum cleaner and replace the batteries, even if the detector is hardwired.  Smoke detectors and carbon monoxide detectors save lives.
All of these projects take very little time and money to complete but will keep you and your family safe and your home running as efficiently as possible throughout the winter months.