St. Petersburg's Saturday Morning Market Reopens for
2013-14 Season Downtown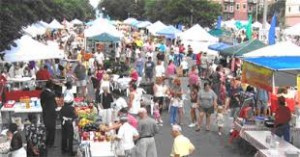 Just back from its summer hiatus, St. Petersburg's downtown Saturday Morning Market has reopened! Locals know it as THE place to be from 9 a.m. to 2 p.m. each Saturday to find the freshest, locally grown and organic produce, spices, exotic ethnic foods, rustic baked breads, plants, fair labor coffees and clothes, artisan crafts, live music every weekend and a strong dose of St. Pete's exciting community vibe. It's the largest farmer's market in the Southeastern United States!
What started as 30 vendors on a too windy Second Street in 2002, the market has evolved into a weekly event showcasing a rotating list of over 200 vendors sharing 130 spaces and drawing as many as 10,000 people, especially on a beautiful St. Pete Saturday morning.
The market operates out of the Al Lang Field parking lot on the corner of First Street and First Avenue South. If you're looking for a GPS locator, use 230 First St. SE, St. Petersburg, FL 33701.
Lots of downtown St. Petersburg parking options for Saturday Morning Market
The South Core Garage is one block away on First Avenue South between Second and First streets. Cost is $3 upon entry using credit cards and cash.
The Baywalk Parking Garage is two blocks north of the market on Second Street North between First and Second avenues. Cost is $1 for four hours.
The Al Lang parking lot has 50 spaces at $5 each on the eastern portion of the lot.
Metered street parking is available and is enforced, but there is free street parking on weekends south of Central Avenue and north of Fifth Avenue South (First St, west to 4th St.).
Please do not park on Beach Drive out of respect for area merchants.
Handicapped parking is available south of the market next to Al Lang Stadium.
The Looper trolley runs from 10 a.m. to 5 p.m. along a 12-stop circuit of downtown St. Petersburg stopping at the Hilton Hotel (1/2 block south of the market on First Street) and the Hampton Inn (1 ½ blocks north of the market on First Street) and costs only 25 cents.
The downtown Saturday Morning Market is a non-profit corporation whose mission is to offer a wonderfully unique shopping experience, as well as a place for our creative community to connect, grow and enhance the quality of our lives and of the quality of life in St. Petersburg. In addition to their website, they publish a monthly newsletter.
Management of the market is committed to building support for worthwhile community programs, and invites other non-profit organizations to participate free of charge.
And you can bring your dog! As long as Fido is kept on a short leash (less than four feet), respects other dog's space, stays away from vendors, especially food vendors, is calm, courteous and well curbed, bring him along. If he's too aggressive, or not well behaved, leave him home.
Would you like to live near downtown St. Pete?  Give us a call to see what is currently available. Contact Chris today at 727-642-9107.