Are the world class beaches, numerous parks and preserves, restaurants, and unique shopping not satisfying your wild side? Don't worry. We've got you covered! The Tampa Bay area isn't all just rest and relaxation; it actually has a wild side to it. We've got a list of some of the most popular thrill seeking activities right in our backyard.
Busch Gardens
The beauty of Busch Gardens is you can make your visit whatever you'd like. If you're looking for a day of family fun you can and if you're looking to get your adrenaline pumping you can do that, too. There are roller coasters that race around the track at sixty miles per hour, twist you end over end seven times, and even give you the opportunity to experience weightlessness for three seconds. Roller coasters aren't the only attractions that will have your pulse pounding. There are several free fall and log flume style rides. When the calendar turns to October, the whole park is transformed into Halloween with haunted houses, themed cast members and shows.
Parasailing
Tampa Bay and the Gulf of Mexico are beautiful to look at from the beach or a boat but nothing beats the view while sailing over it. Not only will you get a unique look at those emerald waters but you'll also get a bird's eye view of the coast. When you're ride is almost complete you'll get the added bonus of a float back down similar to a skydive. There are numerous parasailing operators in the area but we recommend you work with a licensed boat operator.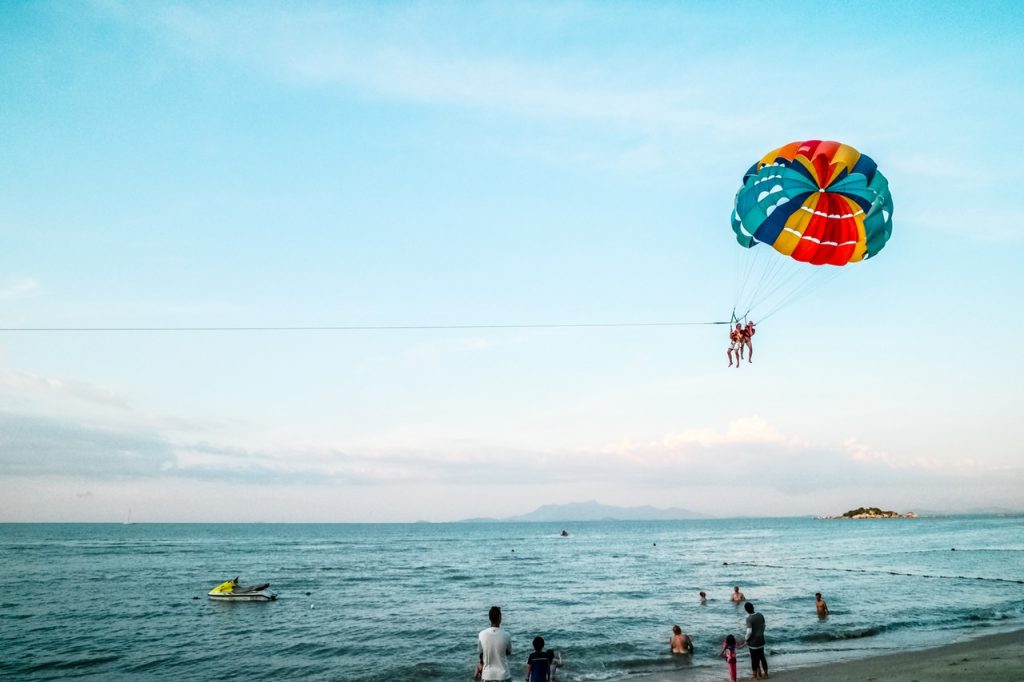 Skydiving
If the gentle float back to earth after parasailing isn't thrilling enough for you, there's always skydiving. There are several local companies offering the opportunities to jump out of an airplane from thousands of feet in the air. Many offer a variety of packages from beginner to expert.
Race Car/Exotic Car Experience
If you have every desire to keep your feet firmly on land but you're still a thrill seeker, hopping into a NASCAR or exotic car maybe just what you're looking for. Professional drivers will take you around the race track at speeds around one miles per hour or you can get behind the wheel of a Lamborghini or Ferrari on a closed course and see what zero to sixty in seconds feels like.
Jet Pack Ride
It's not quite out of this world but a jet pack ride is pretty high tech. The pack is propelled by water and you're lifted thirty feet into the air and can go as fast as thirty miles per hour.
Just like everything else in Tampa Bay, there's something for everyone including the thrill seeker. Tell us about your most thrilling experience in the area!